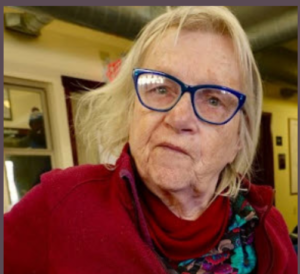 Joy has had a tough life, but she continues to move forward, in every sense of the phrase and in every area of her life. From abusive relationships to disabling accidents to poverty to discrimination, Joy has faced enough challenges to last several lifetimes. However, as she says, she follows the dictum that power is not given, it must be taken.
Joy credits the Peace House Community, its volunteers, and its donors for helping her deal with her challenges. "The support for people like me who are working class and minority is very important. There are few other resources in the community to provide this kind of service. This has meant the world to me. People like me need help beyond the technical help. We need personal help because this is a struggle."
The struggle started early for Joy. Her first marriage degenerated into physical and emotional abuse, and inflicted many types of injury. "You don't know when it will happen again or what will set it off," she explains. She eventually divorced and got engaged to another man, but he broke off the engagement for another woman. During the 1980s, Joy spent time in several homeless shelters and tried to protect herself as well as she could. She volunteered at the free store that Sister Rose Tillemans, Peace House Community's founder, managed at that time, and she helped with chores at the shelters.
Finally, in 1990, she married Darrell, a man who knew how to treat women. "He was horrified by how I had been treated," she states. "He nursed me." The stability that Darrell brought to her life allowed Joy to escape the streets. She taught English as a second language at a local community center, and she began healing from her trauma. Tragically, in 2013 Darrell died from his exposure to Agent Orange during his Navy service in Viet Nam.
It was then that Joy started visiting PHC. She knew of PHC through Sister Rose, but she didn't join the community until 2013. She found ways to support those around her, from listening to younger women who were suffering their own abuse to knitting hats and scarves to help community members get through the winters. She also met John, another man who knew how to treat women. She saw him helping others in the community and thought he might be able to help her. They married in 2018.
Unfortunately, Joy continues to face significant challenges. In January, 2017, an improperly cleared sidewalk caused her to fall on the way home from physical therapy. She hit her head, suffered a stroke, and spent 17 days in hospital. She should have stayed longer but couldn't afford the bills. Rather than letting the incident defeat her, Joy began advocating for better protections for physical disabled individuals. The bill that she helped author (SF 2910) passed the State Senate in March. Joy sums up her current work by saying, "It's very hard fighting for justice. It's never easy, particularly when you're a minority person, older, with time against you. You need support. It's the only way you can try to keep any level of sanity."