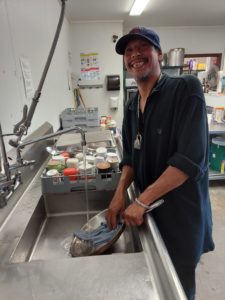 Mike was introduced to PHC during his years in middle school. They lived in the neighborhood and while walking, his mother Shirley said, "Let's stop in Peace House."
This began Mike's presence with us. Early on he always felt a sense of belonging and knew PHC to be a place where he could connect with his mother and be welcomed by other community and volunteer members. This sense of belonging has kept him coming for 30 years.
During adolescence Mike describes sacrificing his own education through truancy in order to see that his younger siblings made it to school. This truancy eventually led to a knock on the door and a child protection order resulting in his entering a foster home. This separated him from those siblings he'd looked after and needed to stay in touch with. It was a painful time.
As a young man he witnessed a violent attack on his mother which resulted in her losing one of her unborn twins. With great sadness Mike remembers the lost twin survived three days. He described how he was able to cradle his new brother in his arms while feeling and hearing his last breath.
His mother's death was painful, but she left him with many words of advice and memories of the beautiful person we all remember her to have been. He calls on her spirit often to remind him to "learn to curb your violent temper." This he struggles to learn. Having her remembered on the PHC We Remember board is important and comforting, reminding him of her love for him throughout her years.
Today, Mike is giving much to PHC through his daily volunteer efforts, helping keep up the grounds and doing other tasks. Working with Loaves and Fishes in our facility helps him establish other bonds and valued friendships with other supporting people. All of these activities, he says, help keep him "out of trouble" and help him rebuild his life. He now strives to help others, be kind and erase old negative habits and behaviors. He smiles as he explains how hard he works to avoid the "hard stuff," sticks with Miller Light, and avoid those who might take him "down the wrong path." Aware of his Native heritage, he described the inherent obstacles from the outside and the inside that he and his relatives experience. His insights are to be admired.
When asked what it would be like without the PHC, he just rolled his eyes, looked at the ceiling and blew out of his mouth.
Update: Mike was just hired as a paid staff dishwasher. It's obvious from this photo that he enjoys it and is doing a great job. We're so pleased to have him onboard!