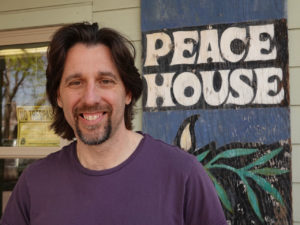 As you may have heard, in late September a car went through the dining room wall of the Opportunity Center, which is a service building about three blocks from Peace House Community. Fortunately, the building didn't suffer any critical damage, and it re-opened fully within two days. For those two days, though, PHC was busy.
Opportunity Center serves breakfast and lunch, but clients are not allowed to stay once they have finished eating. Many of their clients come to PHC for a second breakfast, and to pass the time. During the two days that the Opportunity Center was closed, we hosted almost all of their clients. On the first day, we welcomed 173 community members (a new single day record for PHC), and served 83 meals. The second day was a bit calmer, with only 149 community members visiting our building, but we served 90 meals. Apparently some of the newcomers decided our food was worth a return trip.
While we were glad that we could step into the gap when needed, we were reminded of how perilous a situation many of our community members live in. One incident can disrupt what is a fairly fragile ecosystem. When I heard about the damage to the Opportunity Center, I called Keith, the Operations Director, to find out what we (he and I and the community) were dealing with. If the Opportunity Center had closed for longer, Keith would have been willing to give us all the perishable food in the kitchen to ensure we could feed everyone. But PHC is not equipped to serve 170 people a day every day. At the same time, if PHC closed (even for a short time), those who come to PHC would struggle to find the same atmosphere and feeling of acceptance at other facilities.
This is why I say thank-you to our supporters so much. You don't just support PHC. You reinforce a safety net that is stretched to its breaking point. And when the net has broken, it has been strong enough to survive until we can recover our equilibrium. But only because of your support.
So, once again, thank-you.