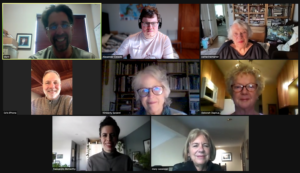 The Peace House Community social media team is a group of talented and dedicated volunteers. We are so fortunate to have them and are grateful for all of their hard work. They keep the PHC website ("peacehousecommunity.org") and social media sites – Facebook, Instagram, Twitter and LinkedIn – updated and lively, which engages our supporters and donors, and promotes fundraising initiatives. Please be sure to follow us.
Alex Celeste
It is great to be able to provide the dual hats of volunteering to help edit the website and also provide its hosting through Tenseg LLC. I consider myself more the pencil than the artist, because I can put content up on the website, and am gatekeeper for what is technically possible.
Catherine Mamer
I came to Peace House Community nearly 36 years ago at the invitation of Sister Rose. When Sr. Rose died in 2002 I took over as director and had that responsibility for 10 years. I love being part of what I call a Little United nations that we have here at PHC. I feel like I am part of a very big family.
Ed Hasselman
Following my retirement I've had the pleasure to volunteer at Peace House Community. PHC offers the opportunity to break down barriers and support the notion that we are all one family. And as such, we listen to, care for, and enjoy the gift of each other.
Kimberly Saward
I'm a California native, but I have been living with my husband on the east coast of southern England for the past 20 years. While the pandemic has kept me separated from my family and communities in America, I have enjoyed being able to use what I call my geek skills which in a small way, have helped me make a difference even during difficult times.
Deborah Dapkus
As a Board member I collaborate with others on how to keep PHC open and safe as well as develop a strategic plan for the future. As a volunteer I enjoy meeting and interacting with the diverse pool of community members and volunteers. And as a member of the social media team I can continue to utilize some of my marketing skills.
Kassandra McCarthy
I currently live in Boston, MA and I am a remote volunteer on the social media committee at PHC. I've been able to get a sense of how much Peace House means to so many people. Trying to communicate that to our followers and supporters via our social media has been a fun and rewarding challenge.
Mary Cassiopi
I enjoy the relationships I've developed within the community. I feel many simple and sometimes complex ideas exchanged prove that "people are people" the world over. I firmly believe that PHC makes a big difference in the lives of the people we serve and I know we are unique in our approach to our community members, acceptance to wherever a person is at the time we are spending together.