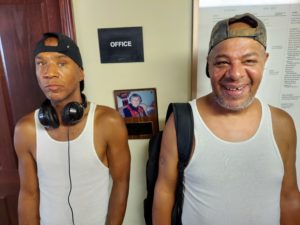 Rob and Ed have been coming to Peace House Community for years. Ed started coming about the time PHC moved to its current building in 2013, but Rob is an old timer who knew Sister Rose Tillemans, PHC's founder. He says he was only 16 when he first came through the door of what was then "the living room on Franklin Ave."
Living on the streets means moving around a lot, which makes it difficult to stay in touch with people and places. So what was it about PHC that kept the brothers coming back through all the years? Rob answers first.
"The atmosphere. Even though we bump heads sometimes, for the most part it's a safe haven. It's kind of a place you can relax here and get away from the daily chaos." Still living on the streets at the moment, Rob often stops by PHC to get some sleep and catch up with his friends.
Ed, who has had his own place for the last year, visits PHC almost daily. "I like coming back here because it gives me out the house to interact with other people I know that come here," he explains, pointing out that life isn't all smooth sailing just because he has a place to sleep. "Peace House just gives me a few hours away from what I be going through. Even though I got my own place, if I get stressed out, I know I can come here and relax a little bit."
Ed still remembers the value PHC brings to those without homes too. "Especially for the homeless people", he explains "It's a place they can hang out for a few hours and get away from the issues that they're dealing, and then move on with the rest of their day."
But can't the community members get that from other social service agencies? "Peace House is a lot smaller than other places," says Ed. "It's more family orientated because pretty much everybody knows each other. It's pretty much the same people every day. Everybody pretty much get along because everyone knows everyone else."
It may seem like a silly question, but will Rob keep coming to PHC once he gets his own place? "Yeah," he says emphatically. "I'm here for life." And with a little luck, Rob will be in his place quickly. He was recently approved for SSI and will begin an apartment search, with help from another social service agency, before the end of summer.
Rob's final word is a thank-you to the donors who keep PHC open. "There's a lot of people out there, and they come here, and they rely on the Peace House for a pair socks or a warm cup of coffee or a warm place to be, and all that stuff costs money. We appreciate the donors because we need socks, toothpaste, stuff like that," he says. "The food, the coffee, that costs money."