About a month ago, I attended a seminar for grant writers. Everyone there hoped to find more effective ways of convincing foundations to give money to our agencies. During the discussion, someone asked me how Peace House Community had pivoted in our service delivery model since the onset of covid. If you aren't sure what they were talking about, don't feel alone. I understood all the words they used but still had to translate the question into normal person language.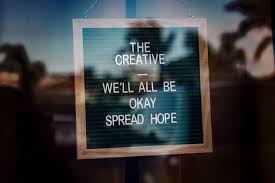 "Pivoting" is the trendy new way of asking how organizations are adapting to changing circumstances. I was supposed to say something like, "We've pivoted to external service delivery to reduce the risk of covid transmission onsite," which would have meant we're serving meals in our parking lot instead of in our building. The person I was speaking with would have understood my answer, but I couldn't bring myself to say such a ridiculous sentence.
Instead, I explained that PHC has been flexible about how we provide our services. I spend a lot of time speaking with our community members about what they need and figuring out how to meet those needs. If I asked them how I should pivot, they might think I was about to break into dance and move a safe distance away. On the other hand, if I ask them what sort of foods we should serve through the winter,or how to help them stay warm, they will give me a roadmap for what to do. Our members can be as creative and imaginative as any foundation in figuring out how to adapt to covid or any other crisis they face.
I have been struck by the amount of creativity I have seen in other parts of society over the last few months. People with limited resources are finding innovative ways to meet their needs and care for family and friends (and sometimes even complete strangers). Sometimes it is a matter of survival, but often it is simply a desire to make the world a better place. They take it as a personal challenge to find innovative ways to make things work in a world that feels like it has fallen apart. When I see some of the ideas they have, I realize just how unimaginative I am. I can come up with good ideas, but usually only when it is absolutely necessary. Other people do it every day just for fun, and they make it look easy.
I want to take this opportunity to thank everyone who is keeping us sane and optimistic through their creativity. You are facing the same lousy situations as the rest of us, but you are handling them with anything from determination to playfulness. You remind us that we are not governed by our situation, and that we can always choose to fight back against our problems in new ways. You are subverting the storyline that says we are nothing more than victims who must submit to the conditions in which we find ourselves. Thank-you for doing what you do.
by Marti Malby, Director Peace House Community – A Place to Belong
This article originally appeared in "The Alley," the newspaper for the Phillips neighborhood of Minneapolis.